12Petals Media Group's Cultural Heritage and Human Rights Emblem
Cultural heritages can assert that modern universal concepts and principles of human rights belong to everyone
By: 12Petals Media Group
(Emblem's 3D presentation can be seen here)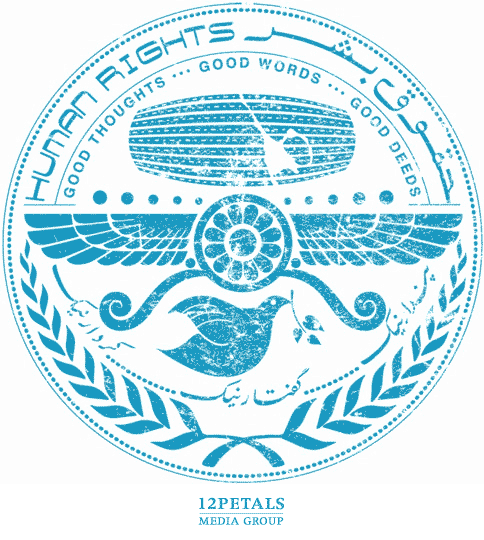 The 12Petals Media Group has created an emblem to help promote and cultivate a culture of human rights and responsibilities. The emblem signifies ongoing efforts for the recognition of human rights and the prevalence of a culture of tolerance everywhere.

It depicts an ancient cuneiform cylinder, more than twenty-five centuries old, on which Cyrus the Great had his people's prudent and spirited wish for the inalienable rights of mankind inscribed. This cylinder is revered as the first charter of the Declaration of Human Rights. Today, a replica of this respected ancient doctrine has been given a place of honor in a glass display at the United Nations in New York. Also depicted in the 12Petals Human Rights Emblem are the expanded grand wings of the "Faravahar" figure (Please see "Note" section, below) that has been revered by the Iranian people for centuries. "Faravahar" stands for the evolving force of existence and human genius that leads us courageously onward and is known for this compassionate and timeless message: "Good thoughts", "Good Words", and "Good Deeds". The wings of the "Faravahar" articulate a human relationship with the natural world, not as the culmination of life, but by defining humanity in terms of its connection to nature.

Drawing from this secular idea, the two opposing swirls are also introduced here on this emblem at the lower sides of the wings of the "Faravahar". They appear eccentric indeed. Yet, stability can be well observed, as they inherently exude strength. Not only do they champion the significance of accommodating differences of natural and individual abilities, they also reveal a call for celebrating and capitalizing on these differences. Such swirls may represent tools of knowledge, namely skepticism, factual inquiry, and critical thinking and reasoning. All elements of the "Faravahar" conjoined hint at liberating forces and represent the human being's purposeful critical faculties which suggest that intellectual curiosity and the continual will to understand are all paramount to the essence of peaceful and harmonious coexistence.

A set of spheres sits atop the wings touching this universal representation of Human Rights. The center piece displays the 12 Petals "niloufar" (lotus or water lily), a representation of the purity of heart and mind. To stand and aspire for emancipation and equality of all genders, the favored color for this emblem is the Persian turquoise, an unprejudiced earthly color. The lower half of the emblem depicts the internationally recognized symbols of peace and justice: the winged dove of peace, hearts of love, and olive branches. All elements and their notable links on this composition invoke care and affection for diverse perspectives, interdependence, and humanity.

The modern universal concepts and principles of human rights belong to everyone. 12Petals' wish is that all people of varying identities come together in a spirit of goodwill and cooperation to honor the Universal Declaration of Human Rights for all.


..............................................................................................................
Note:
Faravahar's Actual Image: See it here

Acknowledgments:
The culture of human rights emblem conceptualized and designed by Majid Baradar and Ardalan Payvar, respectively.
Text By: Majid Baradar -- Prepared for publication By: Ardalan Payvar, Roxanna Marachi, and Shahriar Marachi